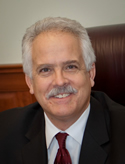 Practice Areas
Criminal Law
Municipal & Government
Family Law
Estate Planning & Probate
General Civil Litigation
Alfred (Ted) S. Alliegro
OWNER | talliegro@chisagolaw.com
Ted Alliegro moved from his hometown of St. Paul in 1985 to the Chisago Lakes area to begin his practice of law as an associate with a small firm in Lindstrom. More than 25 years later, Ted and his wife Nancy, their two daughters and dog Scout consider the Chisago Lakes area their home.
Pursuing his interest in government and public service, Ted joined the Chisago County Attorney's Office in 1990, where he served for 14 years, including two as County Attorney upon appointment by the County Board. He returned to private practice in 2005 when he joined Johnson, Grundhoefer& Alliegro in Center City.
Through his positions in both public and private sector, Ted has gained experience in may areas of the law, including criminal law, family law, land use and zoning, municipal law, wills and probate and general civil litigation.
Education
William Mitchell College of Law, St. Paul, MN (J.D., 1984)
University of Minnesota, Minneapolis, MN (B.A., 1981)
Admission
Minnesota State Bar, October 1984
U.S. Federal District Court for the District of Minnesota
In the Community
Youth Soccer Coach
School board member at private elementary school
Instructor through Chisago Lakes Community Education
Mentor at Chisago Lakes High School through Fairview Lakes mentoring program
Co-Chair of the Chisago County Child Protection Citizen's Review Panel